Nollywood's Tonto Dikeh Celebrates Her Son's 2nd Birthday
We'll start by agreeing with the actress, "There's nothing as powerful as a mother's love." This is because it helps shape the child's character from an early age. Tonto Dikeh celebrates her son's birthday with a really powerful message. The truth is, if you follow the Nollywood star on social media, she has her eyes on her son despite her busy schedule. Tonto celebrates him every day. We already shared photos on the birthday bash but if you missed it, click HERE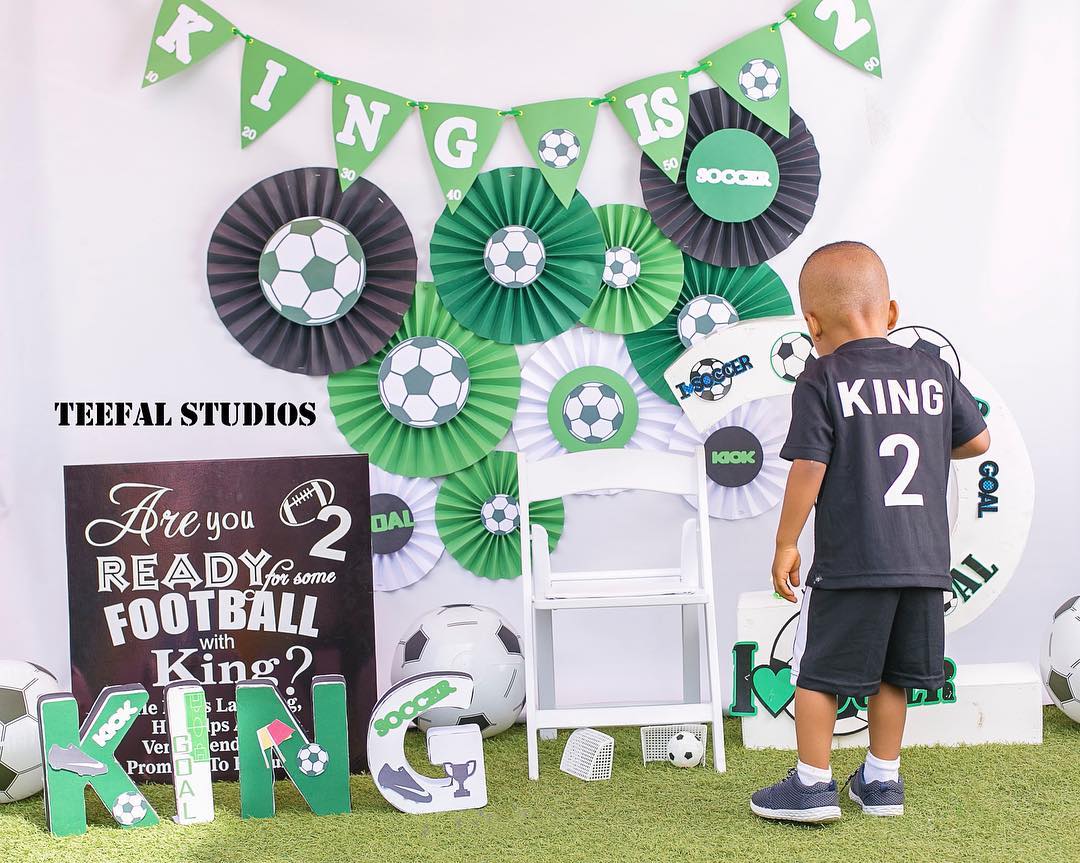 Read Tonto Dikeh's birthday message as her son as he hits 2;
"Happy birthday my Love!
Where do I even begin! This angel right here was sent from God to do wonders. My son! My little King! You have been my biggest strength and joy. Sometimes I feel as though I need a spare heart to help contain my love for you. (In tears)My baby boy,I have a son. The ocean to my eyes. The calm in my life. The one that soothes my soul with just a glance in your eyes. My prayer for you is that you walk in the path God has set for you. Everything else will fall into place! I will make sure you do not waiver from that set path. It is my duty as your mother. My obligation to you and the almighty God that put you in my care. As you enter your SECOND year on this earth may you continue to experience abundant happiness and joy. Unexplainable success and favour! Incomprehensible blessing from all corners of the earth. Always remember that your father is the creator of this world. So you must tread it with confidence. He is the almighty God, so do not ever fear or feel flawed in your life. You will do wonders. As you take your baby steps may they grow into big strides and may you walk into more blessings! Just know that You have got behind you Legion of The Greatest people cheering you-on as your personal cheerleader. I love you Baby! Always and forever! #KingIsOne #BirthdayBoy #KINGANDRE #JUICYMAN #BLESSED2 #MYBABY #PROUDIE #THANK YOU JESUS #KING IS TWO HIYYYYYYYYYYYYYYAAAAAA
HIP HIP HIP HURRY
❤️❤️⚽️⚽️‍♂‍♀"
"THERE'S NOTHING AS POWERFUL AS A MOTHERS LOVE AND AS HEALING AS A CHILD'S SOUL..
KINGY GOD KNEW YOU WERE WHAT MY HEART NEEDED,BECAUSE OF YOU I KNOW HOW TO TRULY LOVE.
NOTHING GLADENS MY HEART LIKE BEEN YOUR MOTHER,THANK YOU FOR BEING SUCH AN AMAZING SOUL.
TO SAY I WILL LOVE YOU FOREVER IS AN UNDERSTATEMENT,MY LOVE FOR YOU WILL GROW WITH EACH PASSING DAY.
YOUR EXISTENCE IS MY STRENGTH,YOUR LAUGHTER MY HAPPINESS
ALL I EVER WANT TO BE IS THE BEST MOM FOR YOU.
I CANT BEGIN TO TELL YOU HOW MUCH OF A BLESSING YOU ARE..
HOW MUCH JOY YOU BRING,YOU ARE MY LIFE ,MY WORLD ,MY BEYOND A 1000REASON WHY..
YOU FASCINATE ME LITTE WONDER,TWINKLE TWINKLE THE STARS ARE ALL IN YOUR EYES..
BABY YOU ARE BEAUTIFUL AND YOU ARE MINE.
GOD BLESS YOU MY ANGEL,I COVER YOUR DESTINY WITH THE PRECIOUS BLOOD OF OUR LORD JESUS..I SPEAK GREATNESS INTO YOU,GROW UP AND TAKE CHARGE MY SON.
JUST LIKE YOUR NAME KING"BABY YOU WILL RULE,I LOVE YOU JUICYMAN❤️‍♀‍♂ #KING ISSA FINE BOY‍♀".
Click Amebo Book for more stuff.
Proud Mum Tonto Dikeh Celebrates Her Son's 2nd Birthday With Powerful Message