Ebony Reigns Wanted Zylofon Media To Free Her From Bullet: Afia Schwarzenegger Blasts Nana Appiah Mensah For Publicly Revealing This
Zylofon Media boss, Nana Appiah Mensah, claims Ebony Reigns wanted to be free 'bail out' from contractual agreement with her manager, Bullet. In fact, according to Nana, ''we had a fruitful meeting and reached an agreement last Tuesday." However, revealing this on his social media page, didn't go down too well with Afia Schwarzenegger who blasted Nana Appiah Mensah. She wrote:
"Good evening Nana,
Trust me when i say I can't wait to chop some of your money you are throwing away cos I don't believe u believe u gonna make that money back But listen
Hope all is well…there was no point in what u wrote..there was no point in trying to be popular in someone's death..
If we all will find a "Bullet" in our lives…our careers would have been better…
If we all find the one that will hustle for shows whiles we concentrate on our talents..we all would have been hitting the billboard charts .
If Nana Hemaa @ebony_reigns wanted to tell the whole world about her terms with her boss Bullet…she would have done that thru radio not you.
Maturity is when u take ur emotions out of business…whatever she told u was confidential not for ur social media page,papa @mn_appiah
Good night."
Read what the Zylofon Media boss had earlier shared on Instagram below.
"Expression of my deepest condolences to the friends, family & Ghana. My deepest sympathies for the loss of a friend, pretty daughter and a proud citizen. Even in the dark, you're undisputably still one of Ghana and Africa's best of all times. We at zylofon media, our hearts continues to ache terribly, as the anticipation for a colorful joyous welcome would now be grounded on void. In as much as, I sincerely wish @zylofontv & @zylofon1021fm is playing dancehall now, instead of a sorrowful dirge😢, we take consolation in the fact that, your rather short days on earth is one that has been well lived and accomplished. Until we meet again someday, "fare thee well, my sister", we would hold strongly to your memories, "FOREVER THEY'LL REMAIN". #RIP-Ebony Reign # ReignforEver #peacebestill❤️ #Findeternalpeace&freedom💕💕💕"
In a bid to do some damage control, Nana Appiah Mensah tried to deny his earlier post had anything to do with her record label or manager, Bullet. He wrote: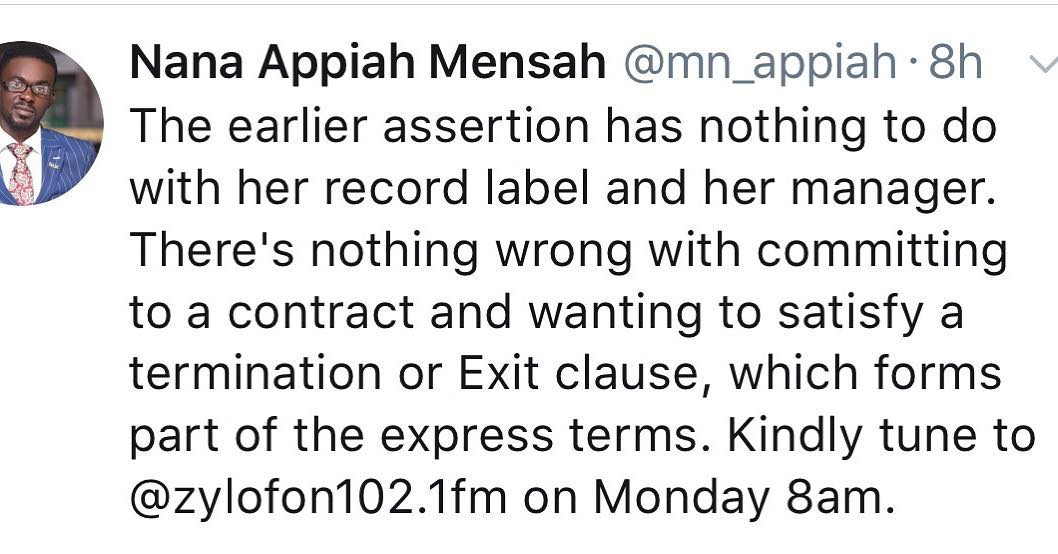 Click Amebo Book for more stuff.
Ghanaian TV Personality Afia Schwarzenegger Blasts Nana Appiah Mensah For Publicly Revealing Ebony Reigns Wanted Zylofon Media To Free Her From Bullet