Ghana's 61st Independence Celebrations: Afia Schwarzenegger Calls Out President Buhari For Saying Nigeria Will Help Ghana Fight Corruption
A lot of people listened to President Buhari's speech during Ghana's 61st Independence celebrations. However, not many were impressed. The President of Nigeria said Nigeria will help Ghana fight corruption. This didn't go down well with citizens from both countries as everybody knows corruption especially within political office, is what has relegated the 'Giant of Africa' to the background with poverty ravaging its people. Anyway, while reacting to Buhari's speech, Afia Schwarzenegger called out Buhari and directed him to Mathew 7:3-5. She wrote: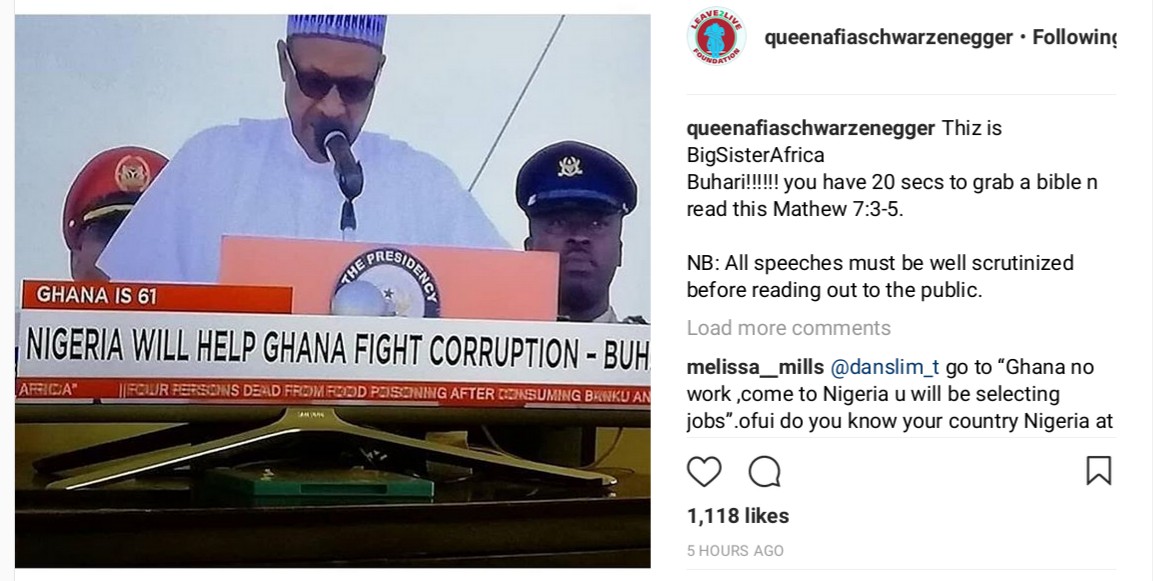 "Thiz is BigSisterAfrica
Buhari!!!!!! you have 20 secs to grab a bible n read this Mathew 7:3-5.
NB: All speeches must be well scrutinized before reading out to the public."
For those Amebo Book readers not too familiar with the Bible, the passage above reads:
Matthew 7:3-5 King James Version (KJV)
"3 And why beholdest thou the mote that is in thy brother's eye, but considerest not the beam that is in thine own eye?
4 Or how wilt thou say to thy brother, Let me pull out the mote out of thine eye; and, behold, a beam is in thine own eye?
5 Thou hypocrite, first cast out the beam out of thine own eye; and then shalt thou see clearly to cast out the mote out of thy brother's eye."
In other words, Afia Schwarzenegger thinks President Buhari is a hypocrite for saying Nigeria will help Ghana fight corruption. The Ghanaian OAP wants the Nigerian leader to tackle corruption first in his country rather than attack others for their small flaws while ignoring Nigeria's massive ones.
Everybody agrees with Afia on this.
Click Amebo Book for more stuff.
TV Personality Afia Schwarzenegger Calls Out President Buhari For Saying Nigeria Will Help Ghana Fight Corruption