Former Vice President of Nigeria, Atiku Abubakar Storms Silverbird Cinemas To Watch Black Panther, Buys Tickets For Everyone Present [Photos]
Atiku Abubakar Storms Silverbird Cinemas To Watch Black Panther, Got Everyone Present Tickets
Atiku Abubakar, stormed Silverbird cinemas in Abuja to watch Marvel Studios hit film, Black Panther. While there, the Former Vice President of Nigeria bought tickets for everyone present who had come to watch the movie.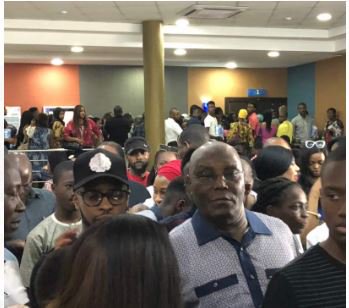 Black Panther has not only got the world excited, but has got Nigerians in the mood with its almost entirely black cast and a young African-American director, Ryan Coogler. "Wakanda" is one of the most used words acoss social media at the moment.
Click Amebo Book for more stuff.
Political Heavyweight, Atiku Abubakar Storms Silverbird Cinemas To Watch Black Panther