Huddah Monroe Has Continued To Rant Against Nigerian Men On Snapchat — "God Forbid I Marry A Nigerian Man"
On 4th June, only 2 days ago, Huddah's follower pleaded with her to marry a Nigerian so she can enjoy our jollof and moimoi. The Kenyan socialite responded by saying Nigerian men are only good for enjoyment and not marriage. Well, Huddah Monroe has continued to rant on Snapchat saying, God forbid I marry a Nigerian man. She says their domestic violence and polygamous ways is a No to her.
Despite this, Huddah Monroe makes it clear she has no intention of getting married. She added that if she decides, "God Forbid not to a Naija man". If u analyze this, you'll find out the former Big Brother Africa star only wants 'ENJOYMENT AND NOT MARRIAGE". In other words, she wants to continue to have fun with these Nigerian men and their 'domestic violence and polygamous ways' since she has no intention of ever getting married. The truth is, she's attracting only the men who share her values and NOT THE HUSBAND MATERIALS.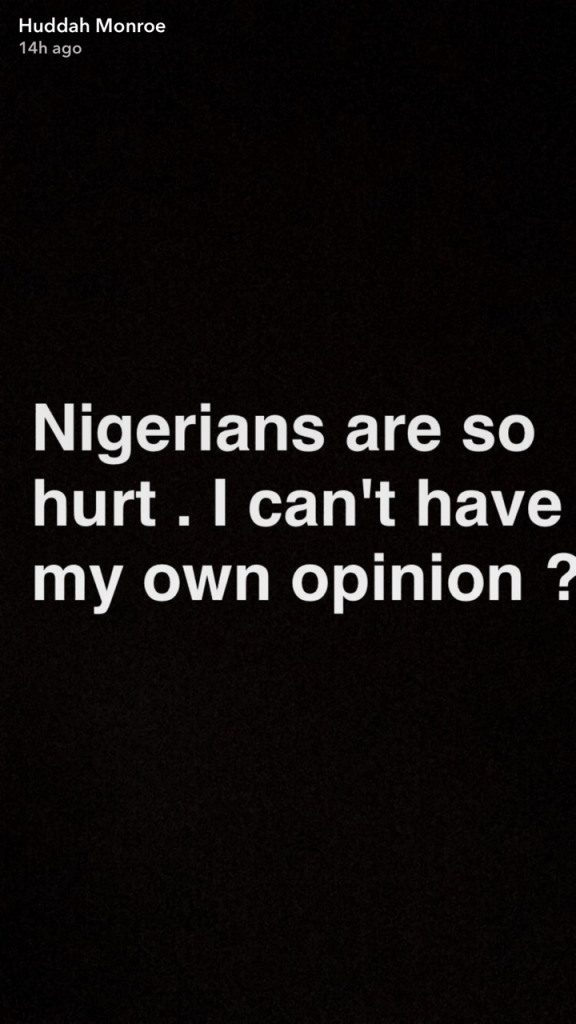 Be honest with yourselves, how many Nigerian men will bring Huddah Monroe into their household and beat their chest saying, yes, I have a wife material?
How many Nigerian mothers will say, Alas! God has given me the daughter-in-law of my dreams?
Truth is, no decent guy will want Huddah for keeps. She's seen by the majority of Nigerian men as for 'enjoyment and not marriage.'
Click if Huddah Monroe Claims Nigerian Men Are Only Good For Enjoyment And Not Marriage you missed earlier story.
Amebo Book readers, does Huddah Monroe have any point in criticizing Nigerian men regarding being marriage materials? If so, give your reasons.
Again, isn't Huddah attracting the type of Nigerian men she detests because such men feel they have a lot in common with her?
Huddah Monroe Has Continued To Rant Against Nigerian Men On Snapchat — "God Forbid I Marry A Nigerian Man"