Hellbent Oh! "I'm Not Going Anywhere, Until You Give Me What I've Been Begging For" — Nollywood Actor Alex Ekubo Stands His Ground After Seeing Racy Bathtub Photo Onyii Alex Posted
You already know our Nollywood stars play too much especially when they are not on set. The other day, Alex and Ebube Nwagbo were all about seeing something big under the duvet. If you missed that, click HERE . The Nollywood actor is back at it. Onyii Alex posted a racy bathtub photo and it led to a hilarious exchange. Alex Ekubo took to the comment section and after seeing the photo.
".Heart don't break around here..So,,Get urself a Me.. ..❣".
Read below.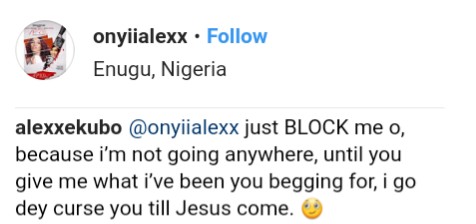 Amebo Book readers, help us figure out what Alex wants from Onyii. Is it a date or perhaps ***? LOL!
Tell us oh!
Click Amebo Book for more stuff.