Ojuelegba People Must Be Strong If Wizkid Finds Something Like This And B*tches Around — Troll Ponders
It's no longer news that Wizkid's baby mamas have come all out for him and exploiting social media to achieve their aim. Binta Diamond Diallo shared legal documents to back her claim that the singer has failed to honour the agreement made to take care of his son. Shola Ogudu has backed Binta while also calling him a deadbeat parent. Unlike the Star Boy, Davido takes care of his children. His baby mamas love him for this and will be secretly thanking their Maker they don't have Wizzy as the father of their kids. Chioma has been sharing photos on her Instagram page and one cheeky troll couldn't help but be himself. He mocked:
"Hmm if Wizkid finds something like this and still bitches around then ojuelegba people must be strong lols"
See the post below.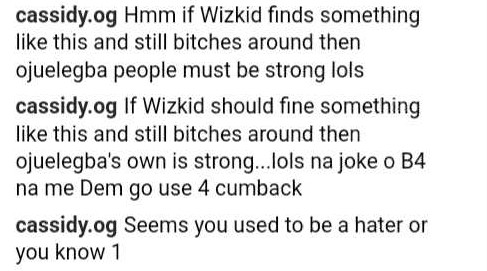 The big question is, does looks have a lot to do with Wizkid's treatment of his baby mamas and children? Some whisper aloud that he is stingy. Then again, he spends lavishly on his son with Jada Pollock, Zion.
Is Chioma also more beautiful/sexier than Binta and Shola? We doubt.
Click Amebo Book for more stuff.
Ojuelegba People Must Be Strong If Wizkid Finds Something Like This And B*tches Around — Troll Teases