Shocking: Man Vigilante Members Caught With Roasted Human Parts At Adeola, Ijebu Ode, Ogun State
The video was shared by Akogun Adesesan Alatise and it shows the man vigilante members caught with roasted human parts at Adeola, Ijebu Ode, Ogun State.
When you watch the video, you'll notice the guy even looks mentally unstable. It's uncertain if he is pretending to be insane but for him to be in possession of roasted human parts could also mean he feasts on them.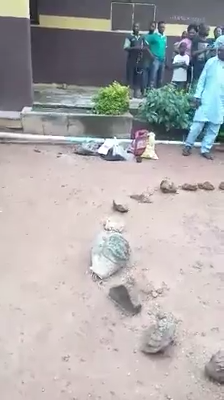 Watch the video below.
Nabbed: Man Vigilante Members Caught With Roasted Human Parts At Adeola, Ijebu Ode, Ogun State