Actress Moyo Lawal Reacts After Her Suicidal Thoughts And Depression Was Made Public
Just incase you don't know, Moyo posted a photo of herself on IG hinting with a caption that gives the impression that she was tired of life and wanted out of it. Well, in another post just minutes ago, Moyo Lawal reacts after her suicidal thoughts and depression was made public. Firstly, read her initial post below: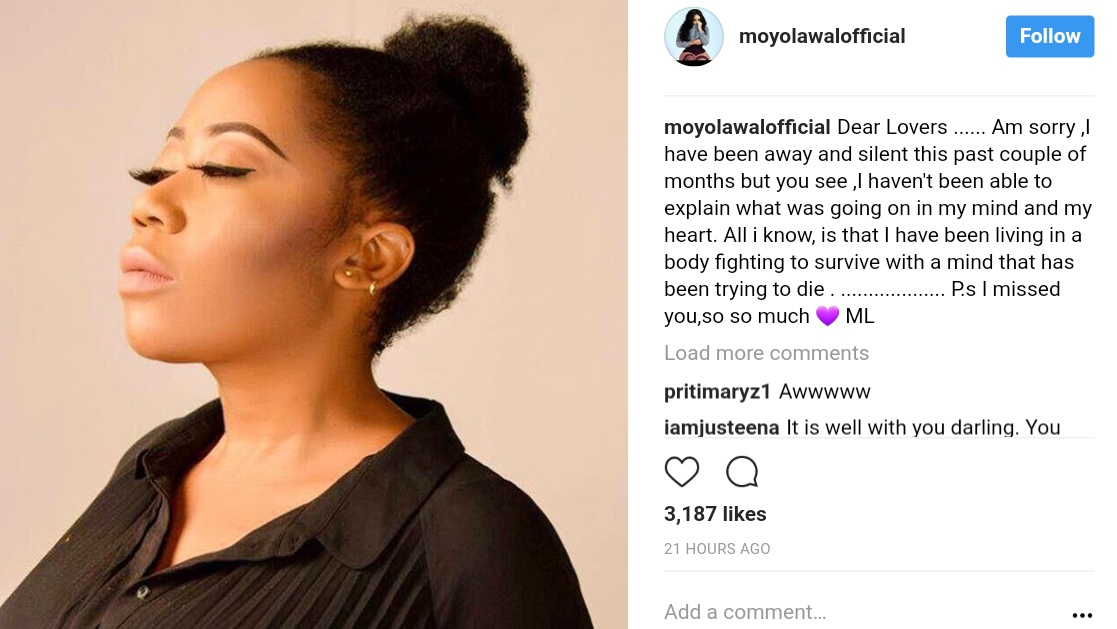 "Dear Lovers …… Am sorry ,I have been away and silent this past couple of months but you see ,I haven't been able to explain what was going on in my mind and my heart. All i know, is that I have been living in a body fighting to survive with a mind that has been trying to die . ………………. P.s I missed you,so so much 💜 ML"
Her fans reacted strongly to this. Even Nollywood star Omoni Oboli reacted showing love and support:
"#HottieAlert 🔥🔥🔥We love You Momo @moyolawalofficial 😍😍😍"
Well, Moyo Lawal thinks everybody is "blowing things out of proportion."
Read her reaction below:
"Wait …hold up lovers… I think we are ….eeem blowing things out of proportion !!! …………………. God has been really good to me and my support system👌 is different shades of amazing ,my family ,friends turned family ,friends who have remained as friends 😒😐😁….fans turned friends are everything ••••••••• I just got well, really numb for a bit 😳 …….and I don't dare tell you people why anymore🙈🙈🙈because ya all are just gonna stone me ,so we are just gonna let that pass ,yes 🙈🙊…thank you••• Looking back now ,I find it highly ridiculous how I let such a little thing weigh me down so much ,because it still shocks me that God Almighty has blessed me so much that I can actually live my life accordingly to my own rules ….like small short bowlegged, one kind looking me 🙈………. ………..although( Baba God🙌 please answer my call oooh)" I am still awaiting that "Hollywood magic and money"💎💎 and my "Kanye" ❤" ………. But otherwise ,I can't complain ••••••• P.s ….Thank you all so much for the love,because honestly the amount of people that have reached out me despite having their own problems is whew …too sweet ….may the Almighty meet each and everyone of you in your hour of need💙
P.s..p.s …So many people have reached out to me ,talking about their experiences and I will really love that to continue ,so pls feel free to reach out to me,I will love to listen and hopefully make things better 💙 …….. P.s..p.s…p.s 😞😒 I didn't and will never attempt to kill myself ,ya all watch too many movies😨••• 💜ML".
Click Amebo Book for more stuff.
Curvy Actress Moyo Lawal Reacts After Her Suicidal Thoughts And Depression Was Made Public