Actor Junior Pope And Wife Celebrate Son Jaden Jidenna Odonwodo 1st Birthday, Jennifer Awele Wasn't Left Out
Nollywood star junior pope and wife Jennifer Awele are in party mood as they celebrate son Jaden Jidenna Odonwodo 1st birthday. Taking to his Instagram page, the actor wrote alongside shared photos:
"From the first time the doctor placed you in my arms, Crazy joy, when I see the eyes of my baby boy.,………….
I pledge to you, I will always do
Everything I can
Show you how to be a man
Dignity, integrity, honor …………. To my dear Birthday baby…….Happy first birthday to you son, swag prince Jaden. : When you came into this world you made everyone around you happier and blessed your parents……
I know you may be too young to remember this day but I want you know how much you are loved.
I am so grateful to God each day for you. You are certainly one of God's greatest gifts.
Tiny hands and feet, tiny little coo's, tiny little smiles… ENORMOUS happiness to your proud parents…………………..
You were born with a natural affinity for charming every woman in the room with your cuteness and the sight of you blessed everyone that saw you……………
On this special day I pray to God as I have always done to bless you ,and bless you, and bless you.May he protect and keep you safe from all dangers and may the light of God always be with you in Jesus name I pray……Amen…………………. HAPPY BIRTHDAY SON…………..@swagprincesjayjay @qutejay"
Jennifer Awele also wasn't left out of celebrating her son on social media. She shared some photos and wrote: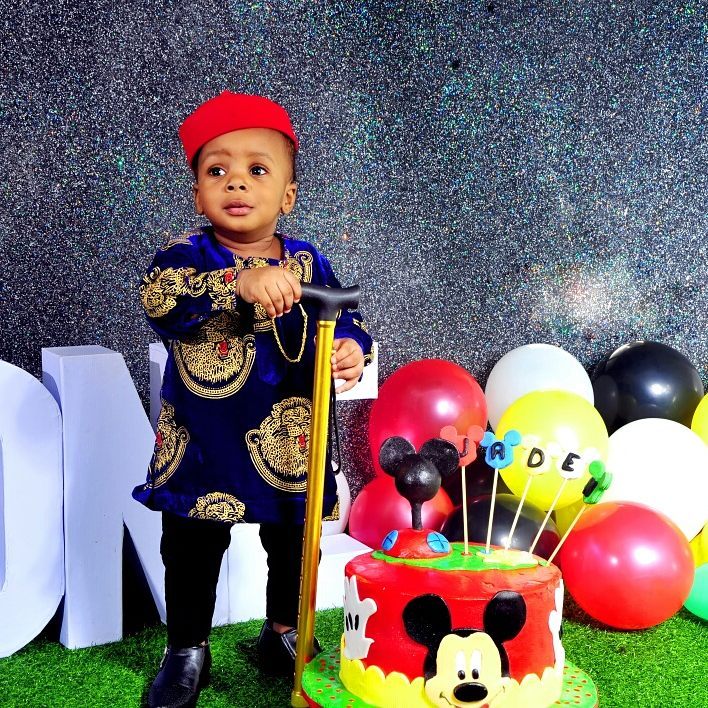 "Happy Birthday Son JADEN JIDENNA ODONWODO. ….. Right From Conception, , You Have Always Been Prayed For…..May God In His Infinite Mercies Grant And Answer Mummy and Daddy's Prayers For You….Also Grant Well Wishes & Prayers From Family,,, Friends, , Well Wishers And So On
You Are Blessed And Lifted Son…..May God's Presence Never Depart From Your Life…..Amen!!!"
https://www.instagram.com/p/BZI_IqOBVjL/
Click Amebo Book for more stuff.
Celebrity Kids: Junior Pope And Wife Celebrate Son Jaden Jidenna Odonwodo 1st Birthday