Madonna Reacts To Las Vegas Shooting, Says It's An Unspeakable Tragedy
At least 59 people were killed and 527 injured in Las Vegas on Sunday night when a gunman identified as Stephen Paddock opened fire on a music festival crowd from the 32nd floor of the Mandalay Bay Resort and Casino. It's understood the 64-year-old Mesquite, Nevada resident checked into the Mandalay Bay hotel on Thursday bringing along himself numerous firearms which were found in his room. In a social media post, Madonna reacts to the Las Vegas shooting. She wrote:
"What happened in Vegas is an unspeakable tragedy. 💔And these acts of seemingly Random violence are happening With more and more. frequency. And the chaos pain and suffering in the world is increasing exponentially. And YES its too easy to buy a GUN in The U.S. or have access to automatic weapons. And this needs to stop!! But the only way we are really going to change the trajectory that the world seems to be heading for is to change our consciousness! 💡 Each and everyone of us……..,,,,, …..,,,.
Let Us Pray for Vegas. And all of the Victims and everyones loss but we also need to Pray for Peace.in the. World. Personally and Globally. 🌏🌍🌎. Lets Pray for the strength to maintain a higher level of consciousness. ☮️. Let's I Pray that we find a way back to our humanity. Let's. pray that we do not forget to treat all living creatures with compassion dignity and respect. 🙏🏻 and Let's Pray for Vegas."
Meanwhile, it's gathered there was a combination of rifles and handguns and more than 10 suitcases at the scene. Also, there are reports of 23 weapons found in the room in which Stephen Paddock stayed in. At one point, the man responsible for the deadliest shooting in modern U.S. history engaged with a security guard who was shot in the leg through a doorway.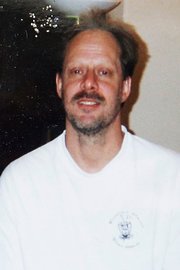 Stephen Paddock was a high-stakes gambler who was recognized in the casinos of Nevada. He is said to have dabbled in real estate investments in Texas with last known full-time employment 30 years ago. Paddock had a pilot's license and had owned two single-engine planes.
He was twice divorced.
Click Amebo Book for more stuff.
Madonna Reacts To Las Vegas Shooting "… The Chaos Pain And Suffering In The World Is Increasing Exponentially"