Tatyanna Lewis: Teen Has Been Murdered By Her Boyfriend's Baby Mother After Facebook Feud
Things are really happening ooh! A teen has been murdered by her boyfriend's baby mother after Facebook feud turned violent. It's understood that Tatyanna Lewis, 18, and Chynna Stapleton, 24, got into a heated argument on FB.
According to reports, Chynna Stapleton has a child for a man who was in a relationship with Tatyanna Lewis. It's gathered that there was such intense rivalry between the two women that they posted aggressive comments and posts about each other on Facebook.
However, things became disturbing when both women eventually met in person on Friday, May 12. Stapleton and Lewis didn't hesitate to exchange harsh words. Things got so bad that when Lewis was ready to leave, she reportedly kicked Stapleton's car. This didn't go down well at all with Stapleton and instead of leaving, she went for revenge. She allegedly hit the gas and plowed into Lewis twice.
Stapleton rammed into her with her 2002 Jeep Liberty until the victim got smashed into a tree. When the authorities arrived the scene, they found Lewis unresponsive and Stapleton's vehicle damaged with pieces of wood lodged into the front bumper and windshield. One of the victim's friends shared details about the Facebook argument that led to the deadly altercation.
"The victim and her boyfriend was visiting and I guess the other girl, out of jealousy and envy, followed them over here and it escalated over Facebook from my understanding," he said. Needless to say, most who saw the incident were devastated. "The girl just came on the curb and just ran over her two times like she wasn't nobody to her," said Jennifer Baggett who lives in Chicago's Morgan Park neighborhood. Another witness said, "All I heard was shouting. All I heard was, 'Get out the way' and when I came out here she was driving up on her. She hit her with the car and like drug her into the tree." Many residents shared their reaction to seeing the young woman rammed by the truck. "This is devastating for me because I've never seen anything like this before in my life," one resident told CBS Chicago. Another resident said, "[The driver] just ran over the curb, just come up, hit that girl, literally hit her two times, and rolled her body, and drove off."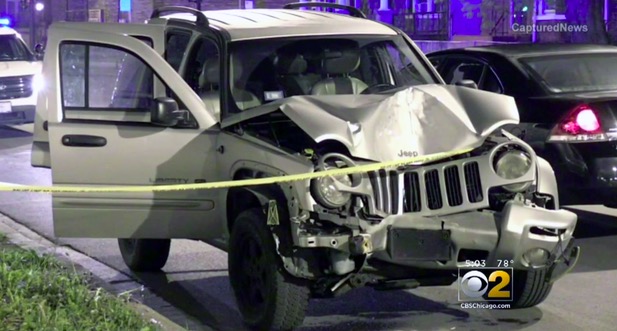 Mother-of-3, Chynna Stapleton, who had no prior convictions, has been arrested and charged with murder. Associate Cook County Circuit Court Judge Maria Kuriakos Ciesil denied bail for Stapleton and condemned both parties for fighting over a man. She said:
"It's really sad that it's always women fighting over men. It's ridiculous".
Tatyanna Lewis: Teen Has Been Murdered By Her Boyfriend's Baby Mother After Facebook Feud