Dead With A Bang: Two Women Have Sparked Outrage After They Were Filmed Twerking In Wet T-shirts Over Their Friend's Coffin
The ladies today appear to be so obsessed with twerking that they do it in any given occasion. Two women have sparked outrage after they were filmed twerking in wet T-shirts over their friend's coffin. In the bizarre video, the mourners all seemed to be on board with the seductive send-off as one lifts a dancer's skirt to ensure her underwear is on full display. It didn't even end at that as another person threw a a cup of ice over her so her wet clothes would make her appear naked for maximum effect. Sadly, others were seen slapping the girls on their backsides to encourage them to dance provocatively.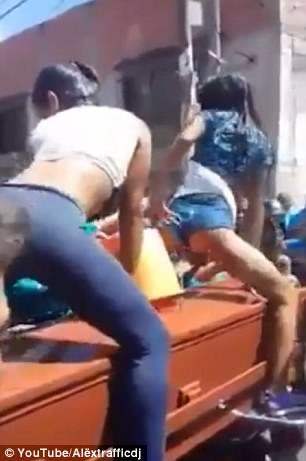 It's uncertain where the video was taken but social media users have speculated it was shot in Colombia or Venezuela. It's understood that the mourners took to twerking over their friend's coffin because he was a reggaeton fan. The video, named 'When Brayan dies' has been viewed more than 19 million times since it was posted on the Facebook page of university student of Memes Universitarios UDC in the city of Popayan in Colombia.
Many people have criticised the women and accused them of not having any respect for the dead. Someone wrote: 'I cannot believe it, it is the most cynical thing that I have ever seen.
'It is inhuman, disgusting and it shows a lack of respect.'
While another man wrote: 'What a pity seeing girls who could be my daughters moving like b****.
'Better not to say what kind of values they have received as they only show the lack of respect by themselves.'
Shocking: Two Women Have Sparked Outrage After They Were Filmed Twerking In Wet T-shirts Over Their Friend's Coffin