Uche Osofeh A Nigerian Man Has Gone Viral After Allowing His Mother Bathe And Feed Him To Celebrate His Birthday
People celebrate their birthdays in different ways. A Nigerian man has gone viral after allowing his mother bathe and feed him to celebrate his birthday. While in the village, Uche Osofeh asked his mum to do do these things just the way she did when he was a child.
In the photos, Uche Osofeh is seen wearing white boxers while crouching inside a wide basin. He is seen sitting on his mum's laps like a child. That was not all oh! Uche's mum appeared to have been feeding him milk from a baby bottle.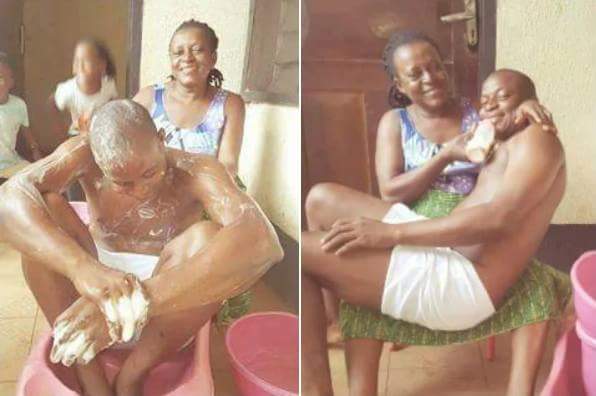 Amebo Book readers, some think Uche Osofeh marked his birthday in an absolutely disgusting way. Ok, you got me! I think it was HORRIBLE and Nauseating. Your take on this?
Anyway, for more awesome stuff on Amebo Book, click HERE
Nigerian Man Uche Osofeh Has Gone Viral After Allowing His Mother Bathe And Feed Him To Celebrate His Birthday